March 18, 2004
They are here
Last week, your mild mannered reporter was walking through Knightsbridge, and he glanced in an easterly direction. Coming towards him was a brightly coloured double decker bus, with the word "Bristol" on the front.
That was odd. Buses travelling long distances are normally darker in colour and more modern looking with tinted windows and stuff.
But.... I remembered something. Could it be?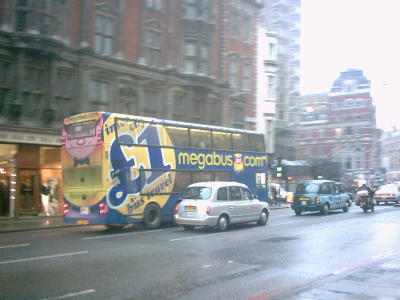 Yes, it was Megabus. My goodness, that bus has been painted to look like something out of the 1970s. Maybe I should go to Bristol on the weekend. Nice city.